Design also plays with ride height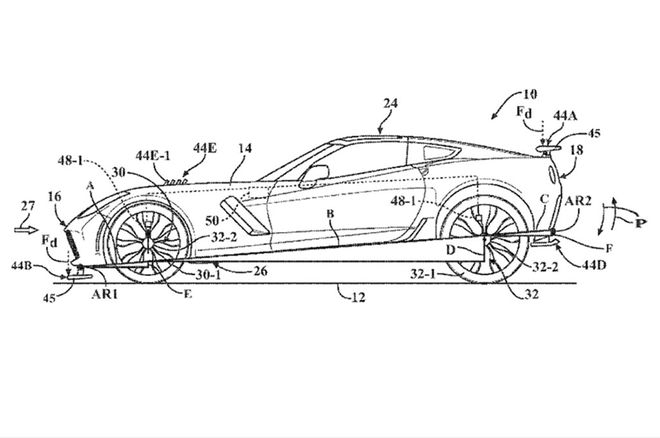 If you want to be in the sports car game today, you need to at least be thinking about active aero. The C7 Chevrolet Corvette may be the next vehicle to jump in the active aero pool, as General Motors has filed a patent for a comprehensive aerodynamic system that includes an adjustable spoiler, front splitter, diffuser, and ride height.
The patent application was filed in May 2016 but was just published today. The filing describes a "system for controlling aerodynamics of a vehicle." Part of that control includes varying vehicle ride height for optimum aero performance. A sketch shows a Corvette from the side and points out the various changes proposed in the patent. We can see a new wing, diffuser, splitter, air dam, and moveable hood louvers and shutters, though the patent says all those elements are "generically shown." The more important aspect of this system seems to be the variable ride height aspect. The abstract spends a lot of time describing the height sensors, which include ultrasonic and laser units.
Will this system see use on the C7 or the mid-engine Corvette later on? We'll have to wait and see. You can take a look at the filing yourself here, but be warned there's a lot of technical jargon and legalese.
Source: U.S. Patent & Trademark Office
Article by: Alex Nishimoto | MotorTrend
Original article: http://www.motortrend.com/news/patent-filing-reveals-gm-is-working-on-corvette-active-aero-system/
Powered by WPeMatico