Corvette Racing is unquestionably one of the strongest teams in the world of production-based endurance racing, racking up a long list of major event wins (and championships) all over the world during the course of the past decade. Included on that list are wins in the 12 Hours of Sebring in 2015 and 2016, so when the teams rolled into Sebring International Raceway for the 2017 running of the historic endurance race, the bright yellow Corvettes were the odds-on favorite to lead the GTLM class.
Unfortunately, when the #4 Corvette ran into overheating issues early in the race and the #3 car was buried in the pack with less than two and a half hours left, it didn't look like there were good odds of Corvette Racing pulling off the Sebring three-peat. However, the sign of a great race team is defying the odds, and that is exactly what Antonio Garcia did this past weekend.
With under 3 hours left in the race, Antonio Garcia took the wheel in 5th place. Within 15 minutes and 10 laps, Garcia slipped past the Ferrari and two of Ford GT's, #67 and #68, putting the #3 Corvette C7.R in the 2nd spot, trailing only the #66 Ford GT. During the next round of pit stops, strong teamwork allowed Garcia to jump ahead of the #66 Ford with just over an hour and a half left.
Having put the Ford GTs to bed, Garcia and the #3 Corvette only the #911 Porsche left to hold back, but the German coupe was closing quickly. Fortunately for Corvette Racing, the Porsche ran over some debris on the track and was forced to make an unscheduled pit stop. From there, Garcia and the Corvette Racing #3 car had a clear drive to the win, taking their 3rd straight win at Sebring (2015-2017).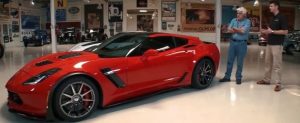 For you non-Corvette Racing people, Check out Peter and Reeves Callaway showing Jay Leno their new Aerowagen by clicking here.
Powered by WPeMatico