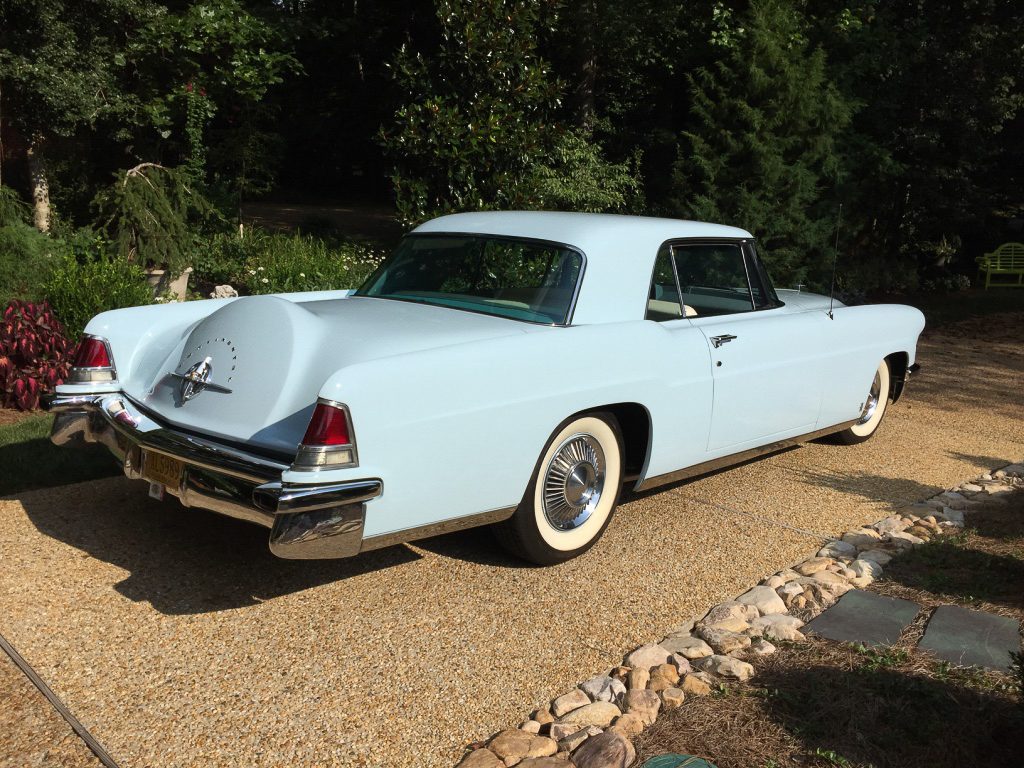 Light Blue exterior, White w/Blue inserts interior, 368/285hp, 3-spd. automatic transmission.
"To craft the finest automobiles in America" – This was the brief of Ford's short-lived Continental Division. Luminaries such as Duesenberg, Cord and Peerless were long gone, and Ford's not-insubstantial order was a direct shot at knocking Packard and Cadillac off their pedestals as the remaining premier American marques. The first Continental that debuted was the 1956 Mark II; while this premium luxury coupe was not the sales success that it was hoped to be, it became one of the most influential designs of the decade, famous both for what it was and for what it wasn't. Lincoln dealerships had been inquiring about a replacement for the Continental from the time production stopped, so in 1952, the Ford Motor Company conducted research to determine whether a market for such a premium car existed; they decided that although they would probably lose money on such a project, the gains in prestige and publicity from a halo car would more than make up for it. A design contest among Ford stylists and outside contractors resulted in a two-door coupe, designed by staffer John Reinhart, that was both traditional and classic, yet incorporated what he termed Modern Formal design; This was the Mark II. When it debuted as a 1956 model in October of 1955, the $9,966 Mark II was one of the heaviest American cars extant at 4,825 pounds without air conditioning, 5,190 pounds so equipped. Riding on a 126-inch wheelbase, it stretched 218.4 inches long and sported a low 56.25-inch roofline. The original Lincoln Continental's proportions remained, with the Mark II's hood stretching a massive 70 inches. Under that hood was a standard Lincoln engine and drivetrain; the 368-cu.in. V-8. The coupe's styling was considered quite conservative upon introduction; its lack of tailfins, air scoops, chrome moldings, two-tone paint or other "jet age" styling cues gave the Mark II a tastefully understated appearance. And despite its bulk, this low-slung car's conservative design approach helped keep it fresh through the following decades. While the Continental spare tire bulge was more a styling gimmick than useful, it became a trademark used through the late 1990s Mark VIII, and details like the stepped side character line, small nameplate lettering and fuel filler hidden behind the driver's taillamp were delightful. That conservative style continued inside, where the leather-covered dashboard was an ergonomic triumph; in an age where engine information was minimal and shiny dash chrome a distraction, the Mark II had easy-to-read round-dial analog instrumentation that included a tachometer, oil pressure, and amperage gauge.
The Continental Division instituted a seven-point quality-control program, and each Mark II required twice as many man-hours to build as did a contemporary Lincoln. The quality of materials used in these cars was one of their best attributes, as Ford felt everything in their flagships should be the best. The standard four-way power front seat could be covered in blemish-free Bridge of Weir Scottish leather or a number of fabrics including matelasse, brocade, and broadcloth; in all, there were 43 standard upholstery trim choices to complement the 19 standard exterior lacquer finishes. Other standard features included power steering, brakes, antenna and windows with tinted glass, a dual heating system, premium Travel-Tuner AM radio with two speakers, self-regulating electric clock, fully carpeted trunk and an engine dress-up kit. The Mark II was so comprehensively equipped that the only option offered was air conditioning, and if so built, the condensing unit was housed in the trunk and four registers were set in the headliner to deliver cool air to the occupants.
The luxurious interiors of Mark IIs were filled with the finest materials; as expected, the Scottish Bridge of Weir leather upholstery was generally more durable than the no-cost cloth alternatives.
Open the hood of a Mark II, and under the die-cast ribbed rocker covers that are part of the standard engine dress kit is the 368-cubic-inch V-8 that powered the standard Lincoln line. This overhead-valve engine, a member of Ford's Y-block family and new for 1956, featured a 4.00 x 3.66-inch bore and stroke, five main bearings and a 9.0:1 compression ratio. Fuel was channeled through a 390cfm four-barrel Holley 4000 carburetor into the engine to make 285hp at 4,000 rpm and 402-lbs.ft. of torque at 3,000 rpm; and spent gasses were released through cast-iron manifolds, dual mufflers and resonators. This 368-cu.in. V-8 was tuned to produce low- and mid-range torque via its big bore, large valves and high valve lift, and strengthening measures included stronger pistons, a lightened, stiffer crankshaft and copper-lead alloy bearings replacing the previous babbitt ones. Oil pressure was ensured with a new rotary-type oil pump, and two air intake ducts led to the air filter, one over the exhaust manifold to warm incoming air and the other directly from the grille for cool outside air. A thermostatically operated valve located at the junction of these ducts allowed the incoming air to mix, feeding the carburetor with air at a consistent temperature. And to make sure that they were finished to the highest standard, each completed engine was subjected to six hours of dyno testing before it was installed.
The Mark II's exclusive transmission was Lincoln's three-speed automatic Turbo-Drive. This unit used a 1215/16-inch aluminum torque converter with planetary gearsets and forced air cooling, and it incorporated a kick-down function and low-gear start. Gear ratios included 2.40:1 in first, 1.47 in second, 1.00:1 in third and 2.00:1 in reverse. In the rear, a Hotchkiss-type open hypoid differential with spiral bevel gears was used in 1956 Continental Mark IIs; its semi-floating drive axles and 3.07:1 ratio made the car a comfortable cruiser.
Elegant is the best word to describe this virtually hand built Mark II. In the same family for over 30 years, this '56 is identical to the one owned by Elvis that sold at auction for $270k a number of years back! It's been through a complete frame -off, nut and bolt restoration and is one of the nicest (if you can find one!) you'll ever see. These cars are rare indeed. But, with factory a/c (updated tp modern spec's), it's even rarer! The Light Blue exterior beautifully complements the lines of this classic and the beautiful White and Blue leather interior is about as nice as sitting in your living room! Stk #5934
Price: $Call
In Stock Now! | Stock#: 5934 | Mileage: 78,990
VIN #: C56P3557
For more information and photos:  http://corvettemike.com/used-corvettes-for-sale/1956-Lincoln-Continental-Mk-II-2508
Powered by WPeMatico