Image courtesy of GM
Coming this fall, GM will reveal the "all-new" 2023 C8 Corvette Z06. Other than this brief announcement we are left guessing at any more details.
But there is more, there is a possibility and speculation of an all-electric C8 out there. The hint to this is that GM has said it will introduce 30 new EVs by 2025. It has only revealed a handful so far, and there are a lot of spy shots of at least a hybrid C8 in the wings also.
Chevrolet released a short video teasing the new 2023 Z06 and the fall date for the full reveal. It features the roar of the engine from the driver's viewpoint. Watch and listen to the speeding Z06 on a racetrack and then onto the streets.
The video ends with a written tagline, "The streets will never sound the same."
---
Win This 600-HP 60th Anniversary
Cunningham C8 Corvette
Sixty years in the making, the new 60th Anniversary Cunningham C8 Corvette pays homage to the 1960 Corvette that became the first to win its class at the 24 Hours of Le Mans. Just 60 hand-built examples are set to be created with the No. 33 earmarked for the Chip Miller Amyloidosis Foundation for their annual fundraiser with the car slated to be given away on October 1st. The new 60th Anniversary Cunningham Corvette is a modern-day marvel with the 495-hp LT2 engine upgraded to 600-horsepower by the equally-legendary Lingenfelter Performance Engineering. In order to bring home this limited-edition 60th Anniversary Cunningham C8 Corvette, all you have to do is to make a donation to the Chip Miller Amyloidosis Foundation.
Thundering Thursday readers can get 30% BONUS ENTRIES
on ticket orders of $25 or more!
Click Here to get your Entries Today!
---
Corvette Mike Concierge Service
Want help buying a car at an upcoming auction?
Corvette Mike is available, Just Click Here to email him.
---
This year's show will highlight 1953-1973 Corvettes.
Want to be our next
Corvette Owner highlighted?
Send a picture of your car and a short story to Troy@CorvetteMike.Com.
---
We are looking for Low Mileage Cars
Any year C2 Coupe with 327 and any Transmission
2015-2019 Z06 Coupe
2010-2019 Grand Sport Coupe
2019 ZR1 Coupe
---
Special Bring A Trailer Auctions
In the market for a "brand new" '10 ZR-1 in the rarest color offered that year? Look no further than this awesome example! The car is essentially just as it came out of Bowling Green. It has only 16 delivery miles and the plastic is still on the seats! This has to be one of the rarest C6 ZR-1's in existence because of the miles, options and rare color (1 of only 89).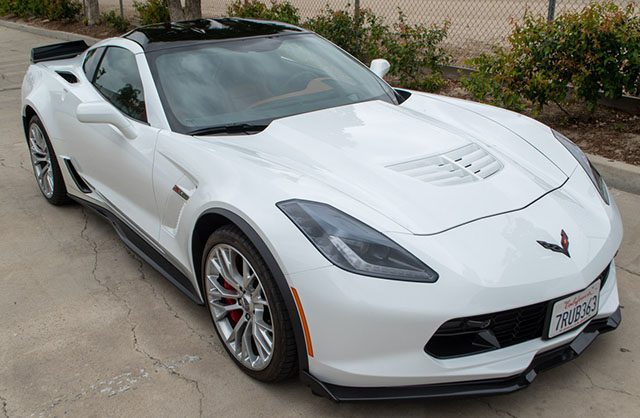 The owner of this '16 Z06 checked a lot of boxes when he ordered it brand new. 3LZ Equipment Group . . . check.  Competition Sports seats . . . check. Transparent and painted roof panels . . . check.  Z07 Performance Pkg. . . check. He also had all of the vents custom painted Arctic White to match the rest of the car for that monochromatic look. It's a local CA. car and the condition is outstanding throughout, having
traveled only 2600 miles since new.
434-Mile 2017 Z06 3LZ Convertible
Ceramic Brakes
This beauty comes from an amazing collection of all things on 4 wheels and big engines. Including really BIG ENGINES with aluminum heads from 1967, 1968 and 1969!! Blade silver trimmed with spice colored top and chairs make you want to jump up and down with joy! But please, buckle up while seated and hang on because the G Force acceleration will surely pull your cheeks back to touch your ears! I've driven this beast and I'm here to tell you, the surgery was painless pulling my cheeks back forward. I left the grin from ear to ear in place.
2k-Mile 2008 Indy 500 Pace Car
In 2008 Corvette was once again chosen as Official Pace Car for the Indy 500. To commemorate this event, 234 Pace Car Replica Coupes and 266 Pace Car Replica Convertibles were produced. Checking RPO #Z4Z got you Black exterior w/Two-Tone Titanium Gray interior. Official Pace Car graphics graced both doors along with a checkered flag applique on the sides. Forged chrome wheels, Dual Mode exhaust, Z51 Performance Handling Package, Indy 500 seat embroidery, Cloisonne fender badges, ZO6 style spoiler and inside console armrest signed by Pace Car driver Emerson Fittipaldi completed the package.
---
Discounted Parts Table Items
Pictures Available Upon Request.
1956-1962 Corvette Hardtops – Priced from $4,888.
1963-1967 Corvette Hardtops – Priced from $2,000.
1968-1975 Used Convertible Top Assembly. Good condition.
Fully restored 1963 through 1967 factory hardtop has been protected and secure in the crate since restoration by Nabers Brothers back years ago. This was restored specifically for 1966 Nassau blue 427 convertible. Very hard to duplicate and very expensive to restore.
On sale this week for $4,750! Less than the cost of a retored one!
---
Auctions

16-Mile 2010 Chevrolet Corvette ZR1 3ZR
2,700-Mile 2016 Chevrolet Corvette Z06 3LZ
434-Mile 2017 Chevrolet Corvette Z06 3LZ Convertible
2k-Mile 2008 Chevrolet Corvette Indy 500 Pace Car Edition

More Coming Soon

More Coming Soon


More Coming Soon


Cars on eBay at Auction Pricing
1958 Imperial Maroon Jaguar XK150 Drophead
1958 Signet Red Convertible
1969 Fathom Green L71 427/435HP Coupe
2003 Pewter Hummer With Super Low Miles
2021 Red Mist Metallic Corvette Convertible
---
Comic of the Week
Powered by WPeMatico