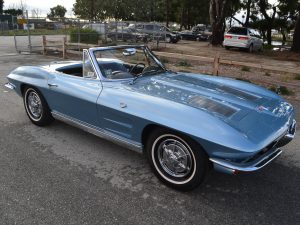 Silver Blue w/Dk. Black interior, 327/300hp, automatic transmission.
The '63 Corvette was an instant classic when it was introduced in the fall of '62. This car was a real game-changer! It brought the Corvette out of the past and well into the future! With 4-wheel independent suspension and a lower center of gravity, the '63 handled as good as it looks and was on its way to becoming a world-class sports car!
With the exception of one repaint about 10 years ago, some minor refurbishing and regular maintenance, this very sharp, 4 owner '63's in remarkably original condition.
The car is pretty much all original (including a #'s matching drivetrain) with the exception of the master cylinder (but we still have the original). The refurbishing includes the gauge cluster, seat belts, and carburetor. The automatic trans, power brakes, power steering, and power windows make for the perfect weekend cruiser . . . or daily driver! Either way, you'll thoroughly enjoy owning this beautiful '63! Stock #5917
Price: $53,500
In Stock Now! | Stock#: 5917 | Mileage: 8284
VIN #: 30867S113084
For additional information:  http://corvettemike.com/used-corvettes-for-sale/1963-Corvette-Convertible-2494
Powered by WPeMatico