Make a C8 Your Classroom
Picture courtesy of Ron Fellows Performance Driving School.
Do you have two days available with nothing to do? I recommend you spend them behind the wheel of a mid-engine C8 at the Ron Fellows Performance Driving School.
There are other great racing schools out there that offer instruction that cater to varying abilities and are staffed with incredibly talented instructors, but the Ron Fellows school offers the mid-engine C8 as the classroom. This makes the Ron Fellows Driving School, based out of the luxurious Spring Mountain Motor Resort and Country Club in Pahrump, Nevada, one of the best for Corvette owners; other car owners also would enjoy this program.
Two-day instruction at the Corvette Owners School retails for $3,695, not including accommodations, but if you buy a brand-new C8 Corvette, your tuition is slashed to $1,000, and that includes a one-night stay in a Spring Mountain trackside condo and full access to Club Spring Mountain. There are also three more-advanced Corvette programs that range from around $4,095 to $5,495 each.
---
It's the final week for
the Lost Corvette Sweepstakes!
Ends Monday! Win One of Eight Classic Corvettes in the Lost Corvettes Giveaway.
The Lost Corvettes is a collection of 36 sequential Corvette model years ranging from 1953 to 1989 that were given away to one lucky winner in a VH1 contest in 1989. Pop artist Peter Max bought the entire collection and stored it away in a New York City parking garage for decades. A group called the Corvette Heroes rescued the collection and has offered to give away each Corvette with the proceeds benefitting "Stand for the Troops", a 501(c)(3) organization. January 10th is the final deadline to enter one of the eight remaining Corvettes: 1953, 1956, 1966, 1967, 1969, 1976, 1981, and 1985. Tickets for The Lost Corvettes start at $3 each with bonus ticket levels beginning at $25 and up.
Thundering Thursday readers receive Double Entries
with ticket packages starting at $25 by Clicking Here!
---
Corvette Mike Concierge Service
Want help buying a car at an upcoming auction?
Corvette Mike is available! Simply CLICK HERE to email him!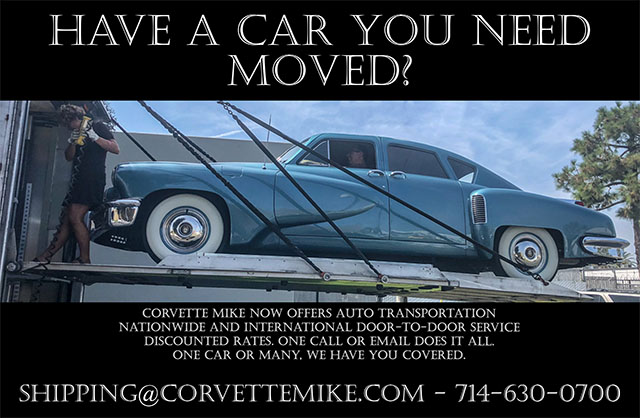 ---
Owners' Corner
Frank R.'s new C8 Convertible
52 years ago I did an end over end car crash in a 1967 Plymouth Barracuda. I had just turned 21 the day before. I then put a deposit on a 1968 Corvette Convertible, but because of the accident I couldn't get insurance, so on Washington's Birthday I ordered my first brand new car, a 1970 Cutlass convertible.
Then 51 years to the day I ordered a brand new Corvette Convertible. After a day shy of 7 months later I took delivery of my new 2022 C8.
Frank R.
---
Coming Soon
1959 Resto Mod Convertible
L98 350ci small block, 6-speed manual!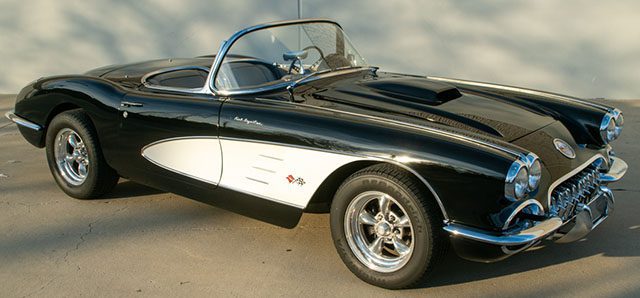 Black w/Fawn interior
Power comes via a Tuned Port fuel injected 350ci small block, backed up by a '90's era 6-speed manual transmission. Additional mods include independent rear suspension, 4-wheel power disc brakes, power steering, retro hood scoop and polished American Racing 5-spokes wrapped in radial tires. This is a fun car to drive and it's quite quick!
Special Price: $74,900!
---
1993 40TH ANNIVERSARY CONVERTIBLE
"40th" emblems and "40th" embroidery
Ruby Red w/Ruby Red interior, 350/300hp, 4-speed automatic
This example came to us from a local owner who purchased the car from Corvette Mike a number of years ago. A move out of state necessitated the sale. It's in very nice shape with only 50k miles. New tires were just installed and it runs and drives great!
Special Price: $18,900!
---
2022 C8 Convertible
Loaded 3LT, Z51, with 4 Delivery Miles!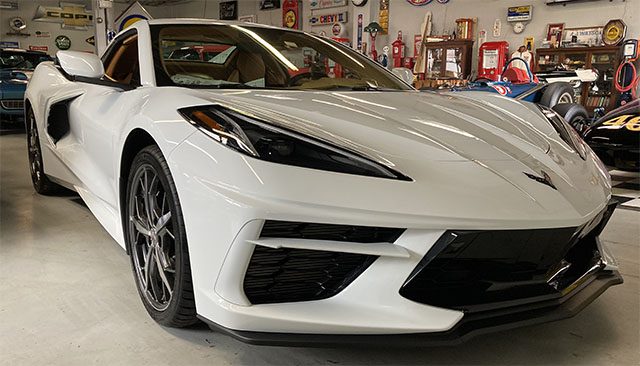 Arctic White with Natural Dipped Interior.
This 3LT 2022 C8 Convertible is absolutely loaded with all the 3LT options. Additionally, it has the Z51 Performance Package, High-Performance Tires, Z51 Rear Spoiler, Z51 Performance Brakes, Performance Exhaust, Front Lift, Magnetic Ride, Carbon Fiber Interior Trim, Trident Spoke Wheels, Body Color Exterior Accents, and more!
Special New Year Price: $125,888
---
Would you like to see your prime collector car example featured Here for sale?
Click Here to send an email.
We buy and consign.
DISCOUNTED PARTS TABLE ITEMS
1966 Wheels, Tires, and Hubcaps
Call For Pricing
Pictures for the following Available Upon Request.
1961-1962 Corvette Hardtops – Priced from $4,888.
1963-1967 Corvette Hardtops – Priced from $2,000.
1968-1975 Used convertible top assembly in good condition. $Call
---
Auctions

2015 Chevrolet Corvette Stingray 3LT

More Coming Soon
More Coming Soon
More Coming Soon
---
Comic of the Week
Powered by WPeMatico