1966 Tuxedo Black Corvette Convertible with Silver interior, L72 427/425hp, 4-spd. manual transmission.
The '66 Corvette model year brought with it some changes. Some options from the previous year, like fuel injection were gone, but in the mid '60's cubic inches were king and Corvette wasn't going to be left behind in that dept. So, the 396ci big block first introduced in '65, grew to a 427ci big block in '66! Horsepower was steady at 425, but torque was up slightly on the solid lifter L72. And in addition, there was another big block offered this year; the L36 390hp 427 with hydraulic lifters. And thus, a legend was born . . .
Can you say SPECTACULAR!!!? We knew that you could! Because that is the appropriate word to describe this Tuxedo Black '66 L72 rag top.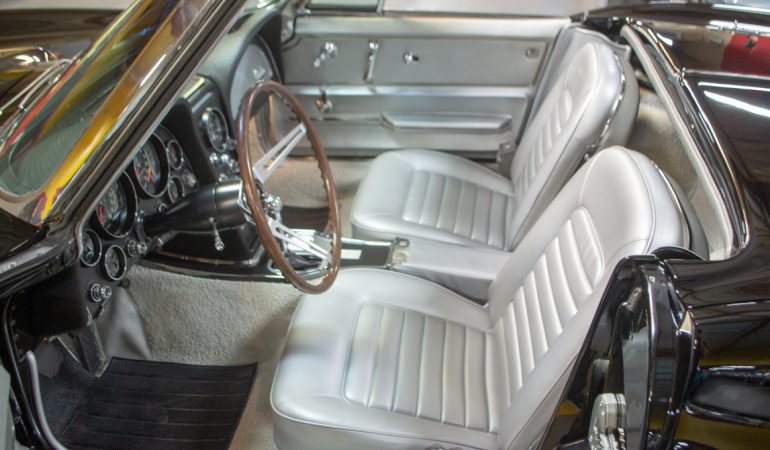 There were 27,720 Corvettes built in '66. But only 1,190 were painted Tuxedo Black. The rarest Corvette color in '66. And although record keeping back then was spotty at best, it is known that Silver was also a rare interior color choice, as well. Taking this into consideration, it's highly likely that Black w/Silver interior was one of if not the rarest color combo offered back then. But frankly, we can't figure out why? This has to be one of the sharpest combo's we've ever seen in a Corvette! And why more buyers didn't order it is a mystery. However, as rare as Black/Silver is, sometimes great examples do pop up from time to time. Like this one . . .
As we mentioned earlier, the big block grew to 427ci in '66 and two flavors were offered. The engine in this one is the mighty L72, conservatively rated at 425hp and featuring 11:1 compression and stout 4 bolt main engine block, forged pistons, hi-flowing rectangular port heads and a high duration solid lifter camshaft and a huge Holley 4bbl carb! Mated to a Muncie M21 close ratio transmission, this combo was hard to beat on the street or the strip!
But, most of these beasts were bare bones. Meaning they came off the assembly line bereft of options. The intention being that anything not meant to help it go fast was left off! This example however, was an exception.  Optioned with a matching #'s L72 427/425hp big block, M21 close ratio 4-spd. manual transmission, power brakes, power steering, tinted windshield, side exhaust, AM/FM radio knock off wheels and more, this '66 was more than just a street brawler!  It's a Corvette you drive anywhere and enjoy!
Originally sold new out of Marsh Hallman Chevrolet in Albany, NY.  The car has benefited from a complete, nut and bolt frame off restoration that was completed in '13, but looks like it was finished last week!  The paint shines like glass and the car overall looks fresh from every angle.  But the best part is when you get behind the wheel, insert the key and start 'er up!  The engine fires up immediately and idles with that musical lope.  Power is instant as it tracks down the road arrow straight!  Comes with a binder full of restoration receipts.  Simply fantastic!
Powered by WPeMatico