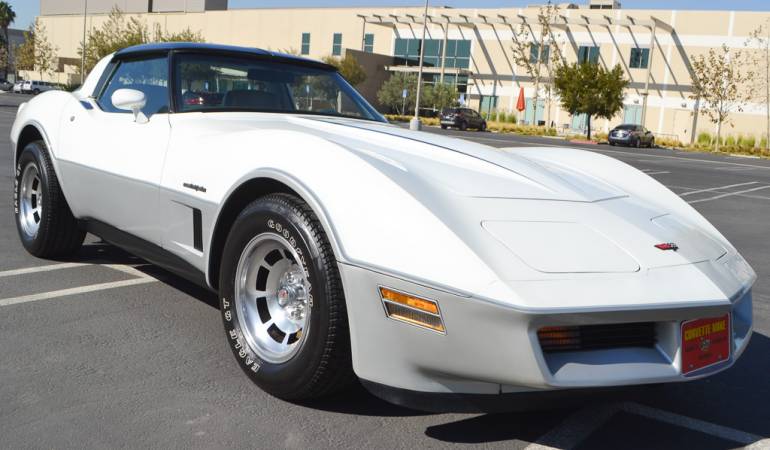 Beautiful, car with very low miles, rare color combination.
1982 White/Silver Corvette Coupe with Silver-Gray interior, 350/200hp, 4-speed automatic transmission, NCRS Top Flight, and Window Sticker.
This Crossfire Injection Corvette is likely one of the most desirable available, having covered only 6,856 miles from new. If the low miles aren't enough to create a buzz around this 1982 Corvette, it's good to note that fewer than 700 were produced in the two-tone White-over-Silver color combination like this one. The Silver-Gray leather interior complements the exterior well and the entire package exudes a subtle, mature tastefulness rarely seen in the sports-car world.
Well equipped with an automatic transmission, power windows, power locks, a power driver's seat, air conditioning, cruise control, a tilt steering column, a Delco cassette stereo, removable glass T-Top roof panels and a 5.7L V-8 engine. It's obvious these early 1980s Corvettes were the precursor cars, blending luxury amenities and performance.
Presented in great condition, this last of the third-generation Corvettes is likely one of the best. While the early 1980s were not well known for high performance, Corvettes kept their head above water, finding 70 mph from zero in 8 seconds flat, hustling from 40 to 55 mph in just 3.2 seconds, and covering a quarter mile in 16 seconds at 84 mph.
Maybe more importantly, this particular generation of the Corvette offered unapologetic styling that truly reflected the era. The hippy fenders with massive peaks rising high, the pointed nose, the enormous rear window, the front and rear spoilers and the polished aluminum wheels all spelled styling-trend leader.
These Corvettes were also remarkably comfortable cars with plush leather seating, intuitive controls, power amenities, above-average interior materials and a natural seating position. They were relatively quiet, making long trips easy, yet spirited enough to make them go by quickly and without boredom.
Where this generation of Corvette should be considered important though is in the introduction of high comfort with high performance. The 1982 model year was the first Corvette to package an immense number of standard features; items that were optional on previous generations. That said, the 1982 Corvette was also the first to break the $20,000 price barrier. Despite the price leap, Corvette hit the nail on the head for 1982, as it was one of the highest production years ever with nearly 26,000 units being sold.
The car runs and drives just as you would expect a very low mile, well maintained Corvette to run; really well!  It comes complete with all factory books and manuals.
Documents include the Window Sticker, NCRS Top Flight Award and judging paperwork.
Trades welcome and excellent financing available at competitive rates! 
Stock #: 6013
Price: $34,900
Powered by WPeMatico