1968 Corvette Convertible White/Gold w/Black interior. All aluminum Keith Black ZL-1 based 427/600+hp, M-22 "Rock Crusher" 4-spd. manual transmission.
The old adages "Racing improves the breed" and "Race on Sunday, sell on Monday" were never truer than when applied to Corvette!
From the first time Zora Arkus-Duntov put his skilled hands on one, a Corvette has always had a tire . . . or 4 on the race track. Many of the features used on past and present Corvettes were developed specifically for or improved by racing! And any Corvette fan would always get a thrill seeing a version of their favorite year out on the track competing with other popular marques of the day. Back when these warhorses were finished with their racing carriers, most (at least the ones that survived) were either cannibalized for parts or parked out in the back of the shed to gather dust . . . and rust.
It wasn't until fairly recent times that collectors started to appreciate the value of an old Corvette race car. And with that, many of the old cars that were sinking into the weeds out in back of the garage, were brought back to life and fully restored to often race another day in vintage and historic racing events. And as values continued to escalate, more and more of these pieces of racing history were unearthed! Nowadays, a vintage racing Corvette is something to covet as a peek into the past and how it was done to Race on Sunday and Sell on Monday!
Some race cars have short, but illustrious carriers. Others, stay around longer in sometimes different iterations. Like this '68, for instance . . .
It started life as a factory 427 big block. But, its racing life actually started in the mid '70's with Randy Bryan as its first pilot. Randy purchased the car out of Boise ID, and brought it back to Sacramento. He then proceeded to rebuild it as a B Production race car and campaigned it in SCCA Reginal events throughout CA. as well as some national events. Shortly afterward, the car was fitted with a Greenwood body kit during the late '70's and was run in the GTO Class at a number of IMSA races. The car was then sold to Dwight Davis who ran the car in SCCA GT-1 configuration with a body kit manufactured by Hal Whipple during the '80's and '90's with a small block engine.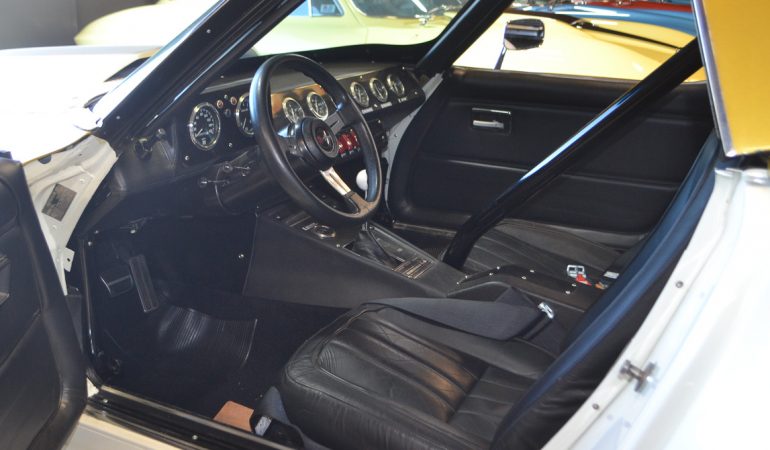 The '68 was then sold to Larry Crossan who decided that he wanted to bring the car back to a more original Roadster body incorporating L88 fender flares, working headlights, turn signals, etc., so it could be driven on the road as well as the track. During the complete, nut and bolt restoration, Larry got a hold of a manual put out by Chevrolet back in the '60's that detailed how to set the frames and suspension up for racing. Larry followed the instructions in that manual when the car was rebuilt, making it a true vintage-correct race car.
The engine is an all-aluminum Keith Black 427 putting our in excess of 600hp mated to a Muncie M22 "Rock Crusher" 4-spd. manual transmission. But not only is the restoration period correct, it's also show quality. The car has even participated in some Concours events.
The sale includes photos of the car from back in the day in various race incarnations, photos of the just completed restoration and racing log books which make it eligible for all vintage and historic events.
Please note: The driver's side racing seat has just been installed and new interior shots taken. Earlier shots of the car show the stock seat still in place.
1968 Corvette Race Car quick-spec's:
White with Gold exterior. Black interior.
Complete, frame off nut and bolt restoration just completed in May of 2018
Keith Black built, ZL1 based aluminum 427 big block engine with aluminum L88 heads.
Muncie M22 "Rock Crusher" 4-spd. manual transmission.
Full racing gauges.
Racing seat.
Hurst Airheart 4-wheel disc brakes.
Roll Cage.
L88 fender Flares.
L88 hood
Daytona headlights.
Built to era-correct racing specs per Chevrolet's own racing manual.
Extensive SCCA and IMSA racing history with log books starting in the mid '70's.
Photos of the car "back in the day" in race trim and photos of the recent restoration.
Owner history.
Custom Panasport wheels in 16 x 10 front and 16 x 12 rear sizes.
LeMans style gas filler cap.
Hooker headers and side pipes.
Be Cool aluminum radiator.
All new wiring harness front and rear
Fuel Safe 22 gal fuel cell.
Oil cooler.
Diff pump and cooler.
Street legal.
CA title.
Eligible for SVRA, HSR and HMSA events.
More information: https://corvettemike.com/used-corvettes-for-sale/1968-white-corvette-convertible-race-car/
Stock # 6054
Price: $125,000
Powered by WPeMatico