An Unmatched Tradition of Automotive Excellence
Legendary Disney Imagineer Returns to the Pebble Beach Concours to Discuss Dream Cars of the 1950s
---
Bob Gurr's love of cars has driven his iconic career and connects him to other automotive dreamers.
PEBBLE BEACH, Calif. (August 4, 2023) — Bob Gurr attended the very first Pebble Beach Concours d'Elegance in 1950. At the time, he and fellow ArtCenter College of Design pupils couldn't afford a hotel and slept in their car before attending the Concours the next morning. Seventy-three years and a dream-come-true career with Disney later, Bob reflects on what it means to be back at the Pebble Beach Concours to speak about Dream Cars of the 1950s.
Bob Gurr's career began at ArtCenter, where he met a professor who would become a lifelong friend, Strother MacMinn, whom he affectionately refers to as "Mac." Bob initially disliked MacMinn's strict teaching style: "He was making us write script lettering with an airbrush—which is very difficult—and one day I asked him, 'Do you even like cars?'" The two laughed and a friendship began.
Strother MacMinn's legendary Le Mans coupe will be on display at the 2023 Pebble Beach Concours d'Elegance as a part of the featured class "American Dream Cars of the 1950s," which celebrates the skill and innovation of individual auto lovers who designed and built their own unique vehicles. Additional Dream Cars in that class range from the 1948 Kurtis-Omohundro Comet and the 1951 Manta Ray to a 1959 Scimitar Convertible Coupe, and also include creations by Sterling Edwards, Phillip Egan, Ray Fageol, H. Sterling "Smoke" Gladwin, Bob Sorrell, and Norman Timbs. Bob Gurr, who watched the Le Mans car come to life, will be a panelist on a Pebble Beach Classic Car Forum focused on those "Dream Rides." That Forum session, sponsored by Alliant Private Client and moderated by Ken Gross, will take place on Thursday, August 17 at 3:30 p.m. in Concours Village.
"Mac was all excited about the Le Mans coupe design," Gurr says. "He showed me the drawings he was making to build the car, and he did a lot of the lofting for it. Mac asked me several times to go up to the shop with him to see the progress on the car body buck that they were building." When Strother MacMinn, who was the first Chief Honorary Judge at the Pebble Beach Concours, passed away in 1998, Bob received Mac's Le Mans archives, including Mac's original drawings and a scale model of the car.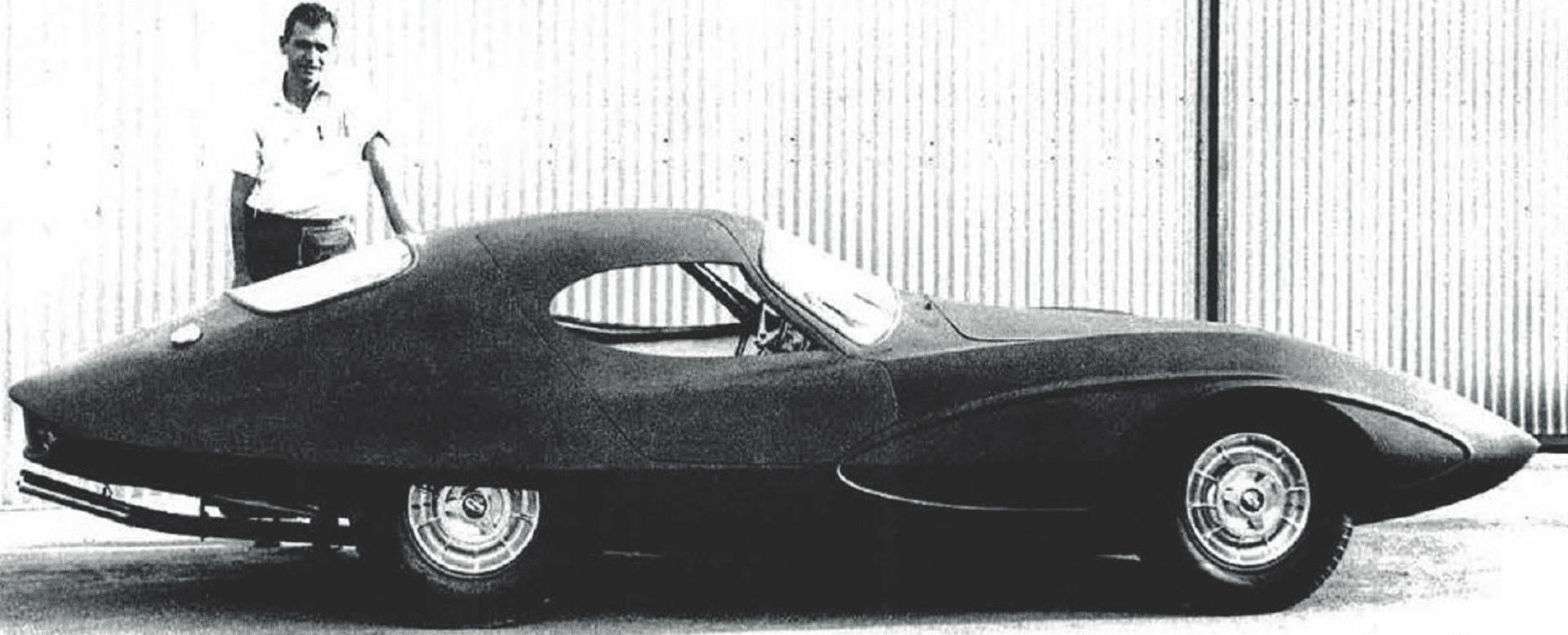 Strother MacMinn ("Mac") with his Le Mans coupe. Image provided by Ken Gross. 
After graduating from ArtCenter, Bob moved to Michigan in pursuit of his own "Detroit dream" of designing cars for General Motors, then was scouted by Ford Styling. Disheartened by designing hubcaps, Bob was back in Los Angeles after just one year and one day. Upon his return, Bob accepted a request from Walt Disney to meet, not knowing his career would completely shift gears.
Bob was first assigned by Walt to design the Autopia series of cars. As Bob was given project after project—designing the monorail, a submarine, the antique cars on Main Street, and the Matterhorn ride—he incorporated Strother's careful teachings in his designs: "Mac taught about surface development; you're actually designing a mirror that's going to reflect an environment. You do not want that mirror to be distorted like a fun house, you want those surfaces to be technically correct…If you look at the Autopia Mark I, the first car that I did for Autopia, it used those surface development techniques and that's what made the car look so good." With "100% creative freedom" at Disney, Bob's imagination could accelerate.
And as Bob points out, "The joke was, I designed far more vehicles completely by myself working for a Disney studio than I ever would have at Ford Motor Company." Even more ironically, Bob ended up closely collaborating with Ford on its Magic Skyway for the 1964 New York World's Fair and with GM's Bill Mitchell when designing EPCOT. 
As he puts it, through a "stroke of luck," Bob Gurr was able to translate his auto dreams into a lifetime of legendary designs. Bob, who is not your typical 91-year-old, is still very active; this month, he officially launched The Bob Gurr Show, a talk show reminiscing on his spectacular career.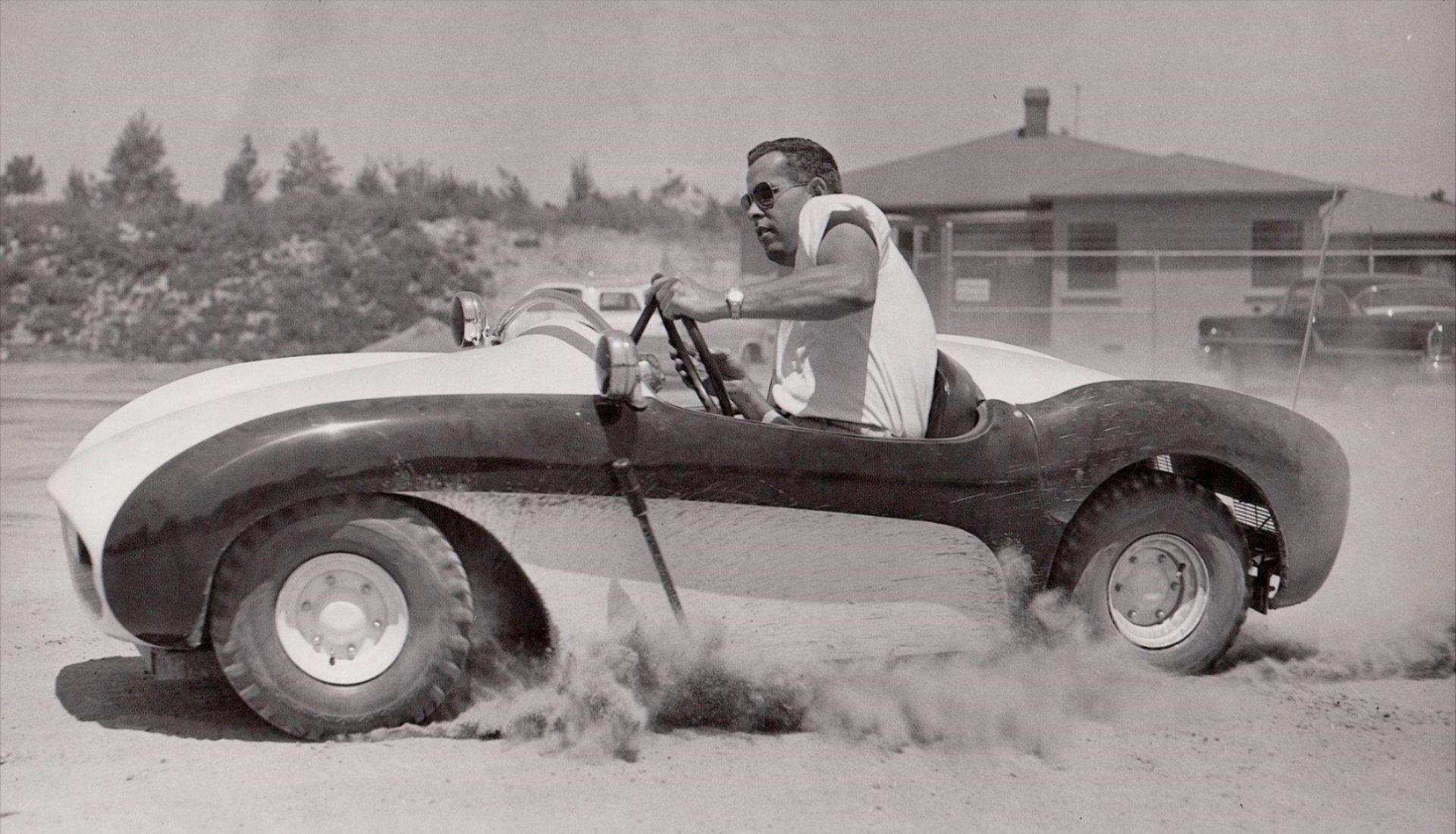 Bob test drives an Autopia Mark I Car in 1955. Image provided by Bob Gurr.
Powered by WPeMatico