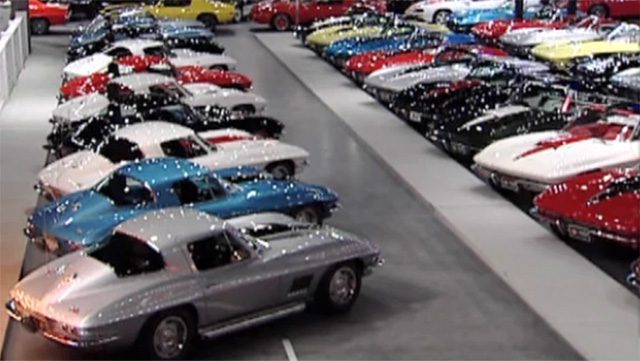 Photo Credits: Charlotte Today
The 1960s were a time of great change in the world, and the Chevrolet Corvette was no exception.
The 1963 Corvette received the long-awaited major update. The new design, known as the "Sting Ray", was even more aggressive than the previous model, with an optional split rear window coupe body style; the first hardtop coupe Corvette. The car also featured a new independent rear suspension system, which improved handling and stability.
Over the next few years, the Corvette continued to evolve. For 1965, the Corvette received a new big-block V8 engine. The 396ci engine was rated at 425hp, making it the most powerful engine to that date in a Corvette. To handle this new power, and engine weight, disc brakes were added as standard. The car also received some minor cosmetic updates, including a new grille and side vents.
For 1966, the "Big Block" was increased again to 427ci and was first rated at 450hp. Soon after production started it was re-rated to 425hp.
For 1968, the Corvette received another major update. The new design, known as the "C3", featured a longer, more streamlined body style, with a new front end and a more pronounced hood. The 427ci V8 engine producing up to 435 horsepower. This engine was paired with a four-speed manual transmission or an optional Turbo Hydra-Matic automatic.
Throughout the 1960s, the Corvette continued to be a popular sports car, known for its sleek design and powerful engines. Today, the 1960s Corvettes are highly sought after by collectors and car enthusiasts alike and are considered some of the most iconic cars of the era.
---
SOLD – SOLD – SOLD1969 L88 WITH 19K ORIGINAL MILES

Rare Survivor Lemans Blue 1969 L88 Convertible finds a new home back east.
It was a collaboration of effort to assist the new buyer. Many minds were sought to add their expertise to this happy ending!!
Click Here for even more information and award history.
Do you have a great classic collectible that needs a loving new home? We have the team to handle the task. No matter the price or the rarity. We make dreams come true!
Call 714-630-0700 or email: Troy@CorvetteMike.Com
---
Win a 2023 Corvette Z06 70th Anniversary Edition with Z07 Plus $25K Cash for Taxes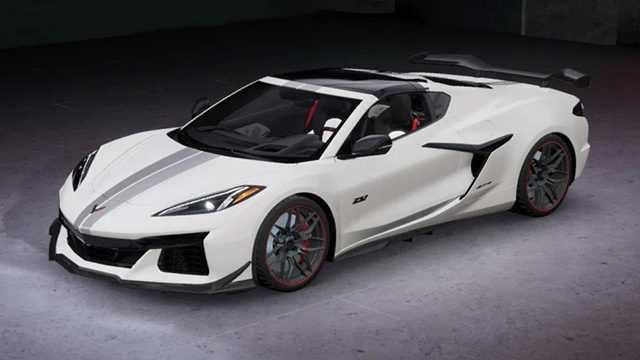 The National Sprint Car Hall of Fame and Museum will be giving one lucky winner the opportunity to bring home a 2023 Corvette Z06 70th Anniversary Coupe with the Z07 Performance Package plus $25,000 cash to pay for the taxes. This 2023 Z06 has the exclusive 70th Anniversary White Pearl Metallic exterior with Ceramic leather GT2 seats. The car is powered by the naturally aspirated 670-hp LT6 that revs up to 8,600 rpm! Your donations help to support and promote the non-profit National Sprint Car Hall of Fame and their mission of promoting sprint car racing.
Ticket packages start at just $25 and Thundering Thursday readers get 20% Bonus Entries. Enter today to win the most anticipated Corvette ever by Clicking Here.
---
This Week's Owners' Corner
Send your story today!

Douglas A. D. 
My 2017 Corvette Grand Sport was purchased from the Estate of my Best Friend from my USAF Days. He passed away almost 2 years ago now, from a Brain Tumor so this ride is sort of "Bittersweet" for me. I wish I would have purchased my own earlier so we could have gone to rallies and such together like we did when we both were into Harley Davidson's and belonged to the same Motorcycle club, I went the way of Streetrod's instead. I don't think I would have chosen a "Black" one however as I have had so many black cars, they are beautiful but they are very hard to keep clean. Luckily this one is Fast enough that the dirt can't land on it and settle down LOL! In fact, that is what my Personalized Veterans Tag reads "FSTNUF" This thing is a Blast to drive. I just hope to maintain my clean driving record! Not much of a story so far but I Love this car. Take care.
Douglas A. D.
---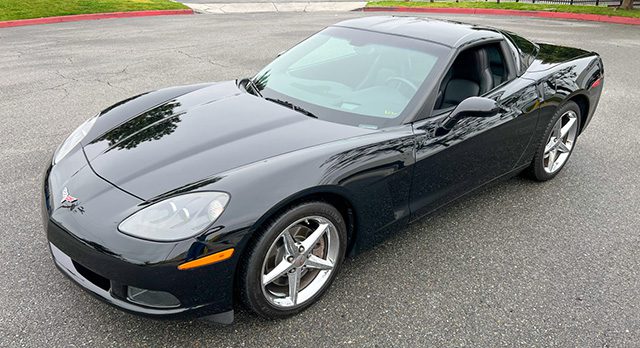 Black w/Ebony interior 376/430hp, 6-spd. paddle-shift automatic.
We acquired this beautiful C6 Coupe from its original So. CA owner. He was reluctant to give it up, but his '23 C8 had just arrived, and garage space was at a premium! But his loss was our gain! The car has been well cared for since new and it shows! Options include, 3LT Equipment Group, which includes a Bose 7-speaker audio system, heated memory Sports seats, power telescoping steering column, home remote transmitter, luggage shade and cargo net. Additional options include chrome wheels!
---
2013 BENTLEY CONTINENTAL
GTC MULLINER
Stunning example with only 16k miles!

Black w/Black interior 6.0L W12/567hp, 6-speed automatic.
This 2013 Bentley Continental GT Convertible W12 is powered by a twin-turbocharged 6.0L W12 linked with a six-speed automatic transaxle and an all-wheel drive system, and it is finished in Black with matching Black leather upholstery. Equipment includes the Mulliner Driving Specification, 21? alloy wheels, a black soft top, an adaptive air suspension, multi-zone climate control, navigation, Bluetooth phone connectivity, and heated and cooled front seats with massage functions. This Continental GTC has 16k miles and is now offered with an owner's manual, a wind deflector, a car cover, a battery charger, three keys, service records, a clean Carfax report.
Conservatively Priced at: $125,000!
$125,500 with Grey Poupon.
---
If you have a Red 1959, we have Cash!

Click Here or email me to talk about your 1959 for sale: Troy@CorvetteMike.Com!
---
CF1 Roadster
Kindigit Designs & Corvette Mike Collaboration
Render your dream car right here!!! ??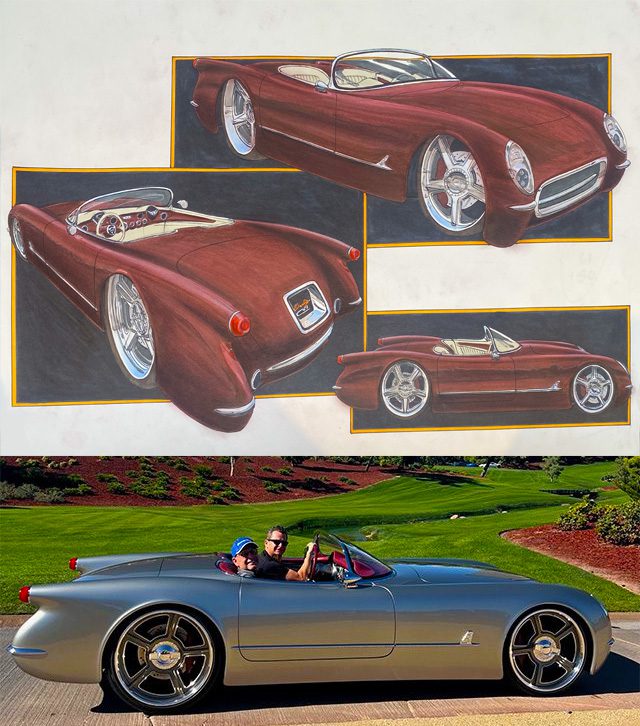 Kindigit Designs of Bitchin Rides and Corvette Mike have collaborated to bring you the Koolest of Bitchin Rides — a series dedicated to the ultimate resto-mods. The last of a true breed of combustion engines purpose-built by Lingenfelter, developing enough horsepower to rip the steel cords right off these Michelins.
This combination of a very limited, select edition of carbon fiber bodies mated to Roadster Shop chassis culminated into something very special. The first, from scratch, retro look 1953 Corvette Roadster with all the trick goodies of modern-day Sportage transportation with a flare to dare you not to stare.
This CF1 is already SOLD, though you can custom build
and reserve yours today! Talk to us, baby!!
Call 714-630-0700 or email: Troy@CorvetteMike.Com
---
1967 Black 435
&
Red 1959 Wanted!
If you have a 1967 Black L71 427/435
and/or
a Red/Red or Red/Black 1959, we have Cash!

Email me to talk about any cars you want to sell: Troy@CorvetteMike.Com!
---
Want some Corvette Mike Swag?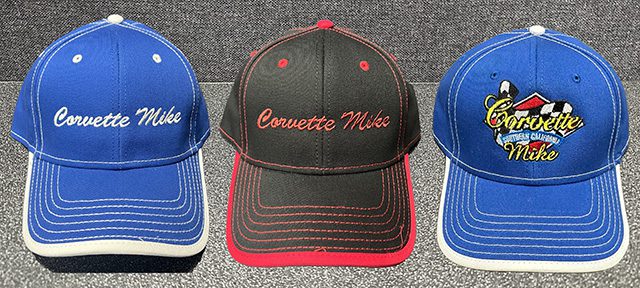 Click here to see our Apparel Store.
---
Comic of the Week
Powered by WPeMatico