Corvette Z06, Porsche 911 GT3,
and Audi R8 V10 Drag Race
Video brought to you by WeatherTech!
This is the challenge I wanted to see. Naturally aspirated, rear-wheel-drive, performance cars using mid-mounted naturally aspirated combustion engines without any electrification.
Between EVs and forced induction, automakers are finding alternative ways to make high-horsepower machines. However, this video shows that the Audi R8 V10 Performance Spyder, Chevrolet Corvette Z06, and Porsche 911 GT3 still offer plenty of straight-line speed. Plus, a Ducati Panigale V4 SP2 is ready to challenge them.
In terms of numbers, the Corvette Z06 is the top dog in this race. Its 5.5-liter naturally aspirated V8 with a flat-plane crankshaft that pumps out 670 horsepower (500 kilowatts) and 460 pound-feet (624 Newton-meters) of torque.
The R8 V10 is in the middle of the pack. This isn't the new, limited-run GT RWD but still has 562 hp (419 kW) and 406 lb-ft (551 Nm) from the 5.2-liter mill.
The 911 GT3 with a 4.0-liter flat-six is the least powerful car of this bunch but makes 502 hp (374 kW) and 346 lb-ft (469 Nm).
Then there is the Ducati Panigale V4 SP2 motorcycle with a 1.1-liter four-cylinder making 210 hp (157 kW) at 12,500 rpm and 90.6 lb-ft (122.8 Nm) of torque at 11,000 rpm thrown in just for fun.
The video starts with the three cars drag racing. Then, the Ducati, with professional racer Josh Herrin, takes on the winner among the four-wheeled machines to see which one of them is quicker.
---
CF1 Roadster
Kindigit Designs & Corvette Mike Collaboration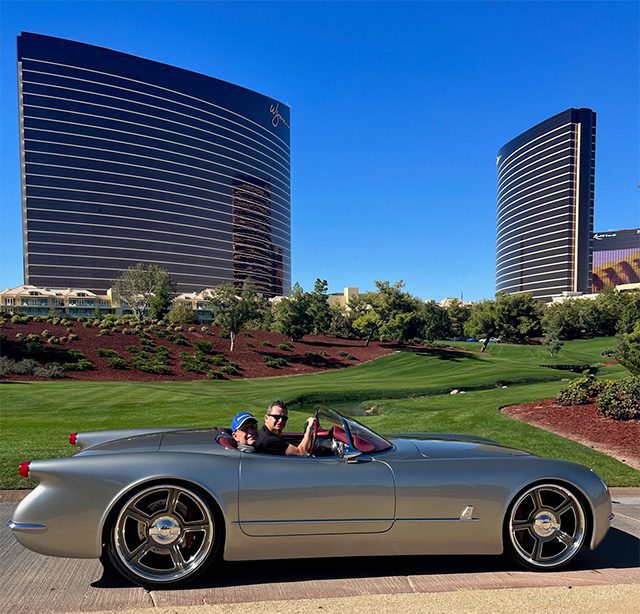 Kindigit Designs of Bitchin Rides and Corvette Mike have collaborated to bring you the Koolest of Bitchin Rides — a series dedicated to the ultimate resto-mods. The last of a true breed of combustion engines purpose-built by Lingenfelter, developing enough horsepower to rip the steel cords right off these Michelins.
This combination of a very limited, select edition of carbon fiber bodies mated to Roadster Shop chassis culminated into something very special. The first, from scratch, retro look 1953 Corvette Roadster with all the trick goodies of modern-day Sportage transportation with a flare to dare you not to stare.
This CF1 is already SOLD, though you can custom build
and reserve yours today! Talk to us, baby!!
Call 714-630-0700 or email: Troy@CorvetteMike.Com
---
Last Chance to Win a 1964 Sting Ray Convertible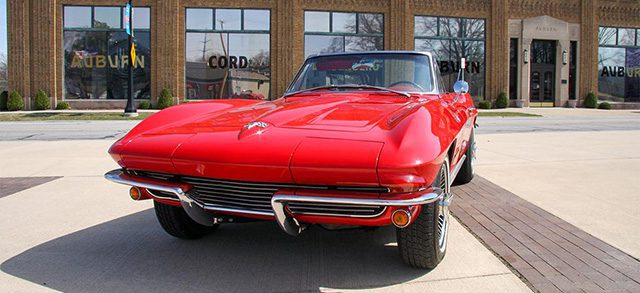 The Auburn Cord Duesenberg Automobile Museum will be closing entries for its 2022 fundraiser on December 22nd. The grand prize, A Riverside Red 1964 Corvette Sting Ray Convertible, will be awarded to one lucky winner on December 30th! This 1964 Corvette is equipped with the optional L76 327/365 V8 mated to a four-speed manual transmission with a Holley shifter. The combination of the Red/Red with the gleaming wrap-around chrome bumpers and finned knock-off wheels is really a stunning look. The cockpit of the Sting Ray is just as bold with a bright red interior that includes the carpet, door panels, dash, and leather seats. This charitable fundraiser supports the non-profit Auburn Cord Duesenberg Automobile Museum in Auburn, Indiana.
Donate today and Thundering Thursday subscribers receive 30% BONUS ENTRIES on orders of $25 or more by Clicking Here!
---
This Week's Owners' Corner
Matthew C's 1999 Fixed Roof Coupe
I saw the posts on facebook about featured posts so here's mine…
In late 2000 my father and I (me 19 years old at the time) were at our local Chevrolet dealer in Wellsville, NY. He was ordering a new 2001 Corvette and had his heart (as did I) set on Nassau Blue. The marketing materials still featured this color but to the dealers surprise, and ours, it was removed and no longer available…. he decided to go with an order for a Quicksilver coupe as a replacement.
I never forgot about the elusive Nassau Blue C5 and back in September 2016 I randomly stumbled onto CorvetteMike's website and there it was, the unicorn!! A 1999 Nassau Blue Fixed Roof Coupe with 7k miles. We made a deal and I purchased the car sight unseen and had it shipped from CA to CO. The car is still with us in NY and has 7.8k miles… my boys, John who is 5 and Leo who is 8, love taking it to shows, parades and local cruise nights!!
Matthew C.
---
Corvette Mike's End Of Year Sale
We sell the best and service the rest!
Are you ready to purchase your dream car?
Thinking about selling your car or car collection?
Give us a call (714-630-0700) or email!
---
2023 Z06's for sale
We sell the best and now the fastest factory Corvette!
Are you looking to buy the 2023 C8 Z06 without waiting years?
Give us a call (714-630-0700) or email!
---
2008 Ferrari 430 Scuderia!
Call 714-630-0700 or email: Troy@CorvetteMike.Com

1962 327/340hp, 4-speed
Very sharp So. CA. Corvette
Hardtop only.
$69,900

1967 L71 427/435
Awesome color combo!
Completely restored!
$129,900

1969 L89 427/435hp, 4-speed
Certified original engine!
Factory side exhaust
$299,900

1969 L89 427/435
Certified original engine by C.C.A.S.
highly documented and with partial Tank Sticker $175,000

2010 Callaway SC606 Grand Sport
Only 11k miles!
$62,900

2003 50TH Anniversary
Like new with only 3200 miles!
 Rare 6-speed manual transmission
$42,900

2022 3LT Z51 Coupe
Front Lift, Trident Wheels
Magnetic Ride Control
$99,900

2023 Z51 Convertible
New and loaded with options!
Only 329 miles.
$115,000

1968 Plymouth GTX Hardtop
440/375hp Super Commando V8
4-speed manual transmission
$124,900

1978 Toyota FJ-40 Land Cruiser
Highly sought-after!
$39,900

1983 Porsche 928 S
Rare color, extensive service records
$29,900

2008 Diamond Black Bentley GTC
Saddle interior, 6.0L/552hp W12, automatic
Only 22k miles
$79,900

2017 Porsche Carrera S Convertible
Beautiful example with low miles
$129,900

2014 Long Wheel Base Range Rover
Black with Ebony interior
$59,900

2017 Land Rover Discovery HSE Luxury
Meticulously maintained with history
$42,900

2018 Range Rover Sport HSE Dynamic
Loaded with low miles
$79,900

2020 Porsche Cayenne Turbo
Quartzite Gray Metallic
Bordeaux Red interior
$129,900

2023 Cadillac Escalade
Black Raven with Jet Black Interior
Fully loaded with all the good stuff!
$117,900

1974 Vintage Honda and Yamaha motorcycle collection!
The collection consists of:
1974 Honda Elsinore MR50 – $5,200
1974 Honda XR75K1 – SOLD
1974 Honda Elsinore CR250M – $13,000
1974 Yamaha YZ 80 – $6,500
1974 Yamaha YZ125 – $8,900
1974 Yamaha YZ250 – $13,000
1974 Yamaha YZ360 – $15,000
Call for more details (714-630-0700) or email!
---
Sold For $550,000!
1957 Dual-Ghia Convertible
This could be your car next!
No one gets more money for your premium classic cars
than Corvette Mike!
---
Parts For Sale!
For sale, two brand new Michelin Pilot Sport 4 S 355/25 ZR21 tires. They have never been mounted and have date codes of 0722 (7th week of 2022). These road warriors have Dynamic response technology, which adapts to the road for precise steering, wicked corner power, and remarkably good tread life for summer tires.
Some of the cars they fit on are:
Corvette C8 Z06
Lambo Aventador SV & SVJ
Ferrari 458,488, 488 Pista, F8, F12, 812
Nissan GTR, GT-R
Pagani Huayra & Zonda
Bugatti Chiron
Dodge Viper ACR
Priced at: $1,800
(plus shipping)
Call 714-630-0700 or email: Parts@CorvetteMike.Com
---
1967 Black 435
&
Red 1959 Wanted!
If you have a 1967 Black L71 427/435
and/or
a Red/Red or Red/Black 1959, we have Cash!
Email me to talk about any cars you want to sell: Troy@CorvetteMike.Com!

---
Comic of the Week
Powered by WPeMatico