Q1 2021 Premium Sports Cars Market Sales.(top 8 cars)
The C8 Corvette sales in the U.S. during Q1 2021 dominated the Premium Sports Cars Market. The Corvette outsold all other rivals combined (6,611 sold), including the Porsche 911 (2,782 sold), Porsche 718 (1,506 sold), Mercedes-AMG GT (1,212 sold), Mercedes-Benz SL (311 sold), Mercedes-Benz SLC (198 sold), Audi R8 (148 sold), Nissan GT-R (50 sold), Ford GT (33 sold), Acura NSX (17 sold), and BMW i8 (8 sold). These sales figures build on the similarly impressive figures in Q3 2020 as well as Q4 2020. During both quarters, the Corvette accounted for over 50 percent segment share.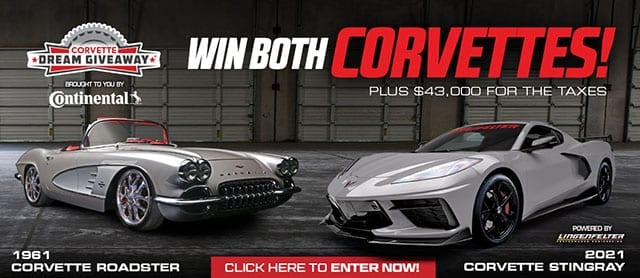 Enter to Win a 600-hp C8 Corvette and a 1961 Corvette Restomod
The 2021 Corvette Dream Giveaway is underway and it's your chance to win a 2021 Corvette Z51 Coupe and a LS3-powered 1961 Corvette Restomod, along with a check for $43,000 to pay the taxes.  The loaded 3LT C8 Corvette will have 600-horsepower thanks to Lingenfelter Performance Engineering. Finished in Silver Flare with Red interior, it has an MSRP greater than $93,000. The '61 restomod is also finished in Silver and Red and it features 525 horsepower and a 6-speed manual transmission. Your contributions help fuel a variety of children and veterans charities and you'll receive 50% More Entries with donations of $25 or more!
Click Here to get your Entry Bonus today!
Owner's Corner
Third Generation Enthusiast takes Delivery of new C8 Corvette
While dad remains old school with his 1975 Corvette convertible, son Mark of Pacific Beach, CA recently took delivery of a new 2020 Corvette Coupe after a wait of 8 months. The black C8 was ordered from Courtesy Chevrolet in San Diego with the 2LT option, GT2 carbon fiber seats, two tone interior and dual-mode exhaust. Mark turned in his 2016 Camaro SS to upgrade into Chevrolet's premier showpiece and has his eyes on a Z06 in 2022. Although this is Mark's first Vette, dad Rick of Castro Valley, CA, recently purchased his 11th Corvette, a totally original air roadster with only 73K miles. New or old, both Corvettes are a testament to the Corvette passion being passed down from generation to generation!
 Rick N.
Want to be our next Corvette Owner highlighted?
Send Troy@CorvetteMike.Com an email.
---
We are looking for C2's
1967 Maroon or red 327 convertible
Any year C2 Coupe with 327 and any Transmission
Also want low mile:
2015-2019 Z06 Coupe
2010-2019 Grand Sport Coupe
2019 ZR1 Coupe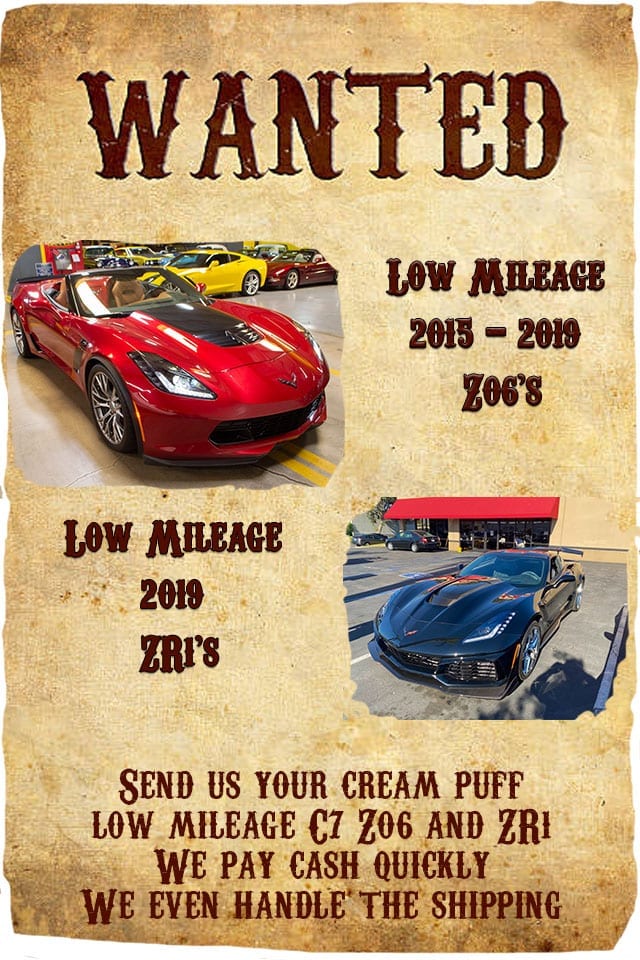 ---
We buy used cars!
2021 Corvettes wanted top dollar paid
Top money paid for the right cars.
Submit  Your Car today!
Cream puff inventory needed!
Lemons need not apply.
Consignments Net YOU More!!
You get the $$$ and we do all the work for you!!!
Garage too full?
Have one or more cars to sell?
Same day cash! Running or not!!!
For approved collections, Mike will visit personally.
Email: Troy@CorvetteMike.Com
Click Here to submit your car!
---
Coming Soon
2008 Indianapolis 500 Pace Car Factory REPLICA
2,039 True miles!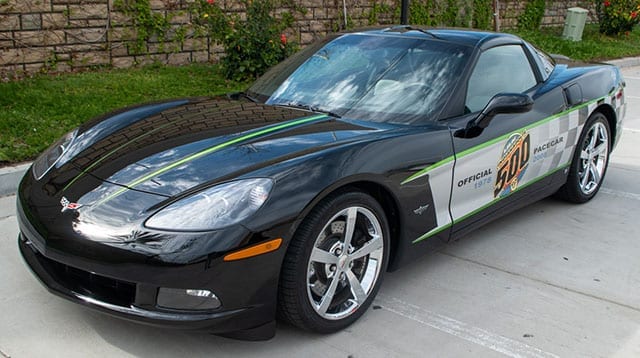 This Pace Car Factory Replica (#399 of 500) is as nice of an example as you will see! It's just about "in the wrapper" with only 2k miles on the odometer! It came out of a private collection of a good client of ours. He took meticulous care of it and always did the recommended services on the car. This isn't your "average" Corvette!
Coming soon special price: $45,000
---
Weekly Special
1979 Shark
True time capsule with only 6k original miles!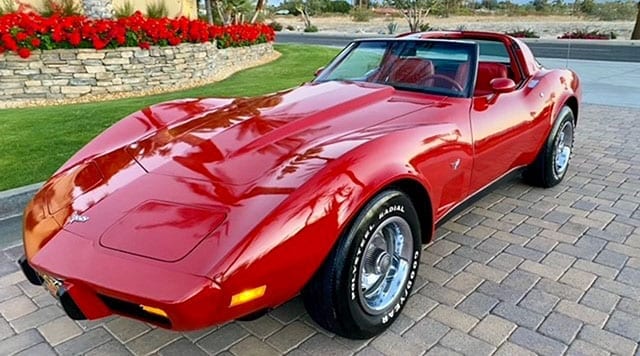 What Mike Likes about this Corvette:
"This 1979 red on red Corvette brings back fond memories of my early days on the show circuit in Southern California. I would spend hours and hours preparing my 1978 Corvette for shows from San Diego all the way to Los Angeles to compete for best of show or first in class.
Examples like this car are far and few in between, and with barely over 6000 original miles driven, this is the way the General delivered Corvettes back in the 70s. They weren't perfect as they were hand built on an assembly line and they were painted in primitive facilities compared to the quality and technology we know of today. That's where the terms Survivor, Benchmark and Bowtie found their roots using examples like this car to write the judging manuals and preserve unrestored examples to show the rest of the world exactly the way the cars were built back in the day!"
Corvette Mike V8tro / CM V8tro
Check out our great financing options.  
Happy Throttling!
Apex • Exit • Accelerate!!
Trades maybe?
 Financing yes!!!
Thrill rides no!!!
The car has been beautifully preserved over the years, but no extensive cleaning has been done in order to to preserve the originality. You will notice the typical of the time poor dealer prep leaving paper along the sill plates and some plastic on the seats. Underneath, there is still tape on the u joints from the factory. This is a very late '79 production car, explaining the wide date range for the tires (bottom of the tire pile) and the '80 style catalytic converter.
Documents include original factory and dealer paperwork, owner history including letters from some of them, and to top it all off, the car has been the recipient of the prestigious N.C.R.S. 4-Star Bowtie Award!
---
Would you like to see your prime collector car example featured for sale here? Click Here to send an email. We buy and consign.
Corvette From The Inside
Signed by Author
Dave McLellan
Corvette Chief Engineer 1975-1992
Price: $25!
Other books and artwork available.
Guinness World Record for of Chevrolet Memorabilia
Being sold by blind auction. Click here to submit your bid.
There are so many items in the Corvette-themed collection that he changed the way Guinness World Records classifies car collecting. Anyone can go on a giant shopping spree and buy a bunch of cars, Mallon said, but accumulating over 2,000 unique examples would take years. Eventually Guinness created a new category for "Corvette items," and in 2012, Charles was awarded the world record.
Click here to submit your bid.
Discounted Parts Table Items
Pictures Available Upon Request.
1956-1962 Corvette Hardtops – Priced from $4,888.
1963-1967 Corvette Hardtops – Priced from $2,000.
1968-1975 Used convertible top assembly. Good condition.
1969 L88 Holley 4bbl carburetor – Completely rebuilt (by Jerry Luck) and ready to install. 3955205 R4296 932. Price: $4,500 $3,500.
---
Auctions

No Reserve: 31k-Mile 2004 Porsche Cayenne Turbo
Modified 1932 Ford Roadster
21k Mile 1980 Mercedes-Benz 450SL
More Coming Soon
More Coming Soon
More Coming Soon

Cars on eBay at Auction Pricing
1962 Roman Red Corvette Convertible
1965 Rally Red Corvette Convertible L78 396/425hp, 4-speed
1967 Silver Pearl Corvette L71 Convertible
1969 Fathom Green L71 427/435HP Coupe
2005 Machine Silver 6-Speed Coupe
2018 Audi Q7 Quattro Prestige SUV. Loaded with only 36k miles!
---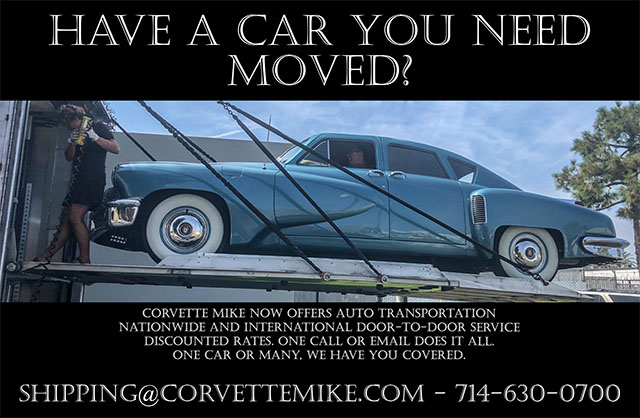 Comic of the Week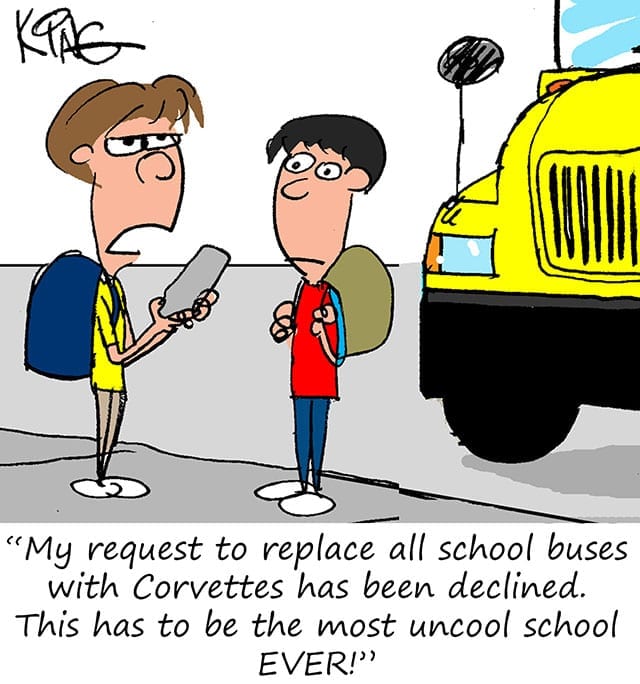 Powered by WPeMatico