Corvette Mike's Thundering Thursday | Volume 8-25 • February 25, 2021
It has been about a year now since the first C8 Corvette got delivered to its lucky owner, and the demand is just as strong today as it was back then. In normal times, the waiting list would be down to weeks, not over a year, and dealer markups would be a thing of the past.
But these are not normal times. At first, it was the month-long strike at the factory that cased a delay in the launch of the C8. Then just as the factory started producing, Covid hit shutting the plant down for another 7 weeks. Since then, the production was stopped even more times because of supplier issues. Because of these issues, the 2020 C8 Corvette only was able to produce a little over 20k cars.
But the 2021 model year would surely put all these problem in the past and start cranking our more cars for people to enjoy. Well, that was not to be either. The 2021 model has had its share of vender shortages, then a chip shortage, and now a weather shutdown, and we are only 3 months into the production cycle.
As I said, these are not normal times, and the C8 is not a normal New Corvette. As such, people are still waiting a year or more to order and get the C8 Corvette of their dreams. So as the rule goes, high demand and short supply equals a sellers' market. And don't think this is going away anytime soon, as the Z06 is going to come out soon and already has a high demand. As the Z06 is built on the same line as the base C8, for every Z06 made there is one less base model built.
And then you have the Right-Hand Drive C8. This will open up a whole new market for the C8. Again, these are made on the same line, so for every RHD made, there is one less Base or Z06 for the LHD market yet reducing the availability for the US market even more. As GM has bigger profit margins overseas, than they do in the US, don't think GM will hold back satisfying the RHD market.
Yet One More Stoppage
The Detroit News learned that Bowling Green will go offline for a week from March 1st to March 5th. "Our supply chain, manufacturing, and engineering teams are working closely with our supply base to mitigate any further impact on production, and we expect the plant to resume normal operations on Monday, March 8th," declared GM spokesman David Barnas. This time it is because of Transmission Supply Issues.

Subscribe to our newsletter and receive updates on new arrivals and featured cars!
---
We are looking for C2's
1967 Maroon or Red 327 Convertible
Any year C2 coupe with 327 and any transmission.
Also want low mile
2015-2019 Z06 Coupe
2010-2019 Grand Sport Coupe
2019 Black ZR1 Coupe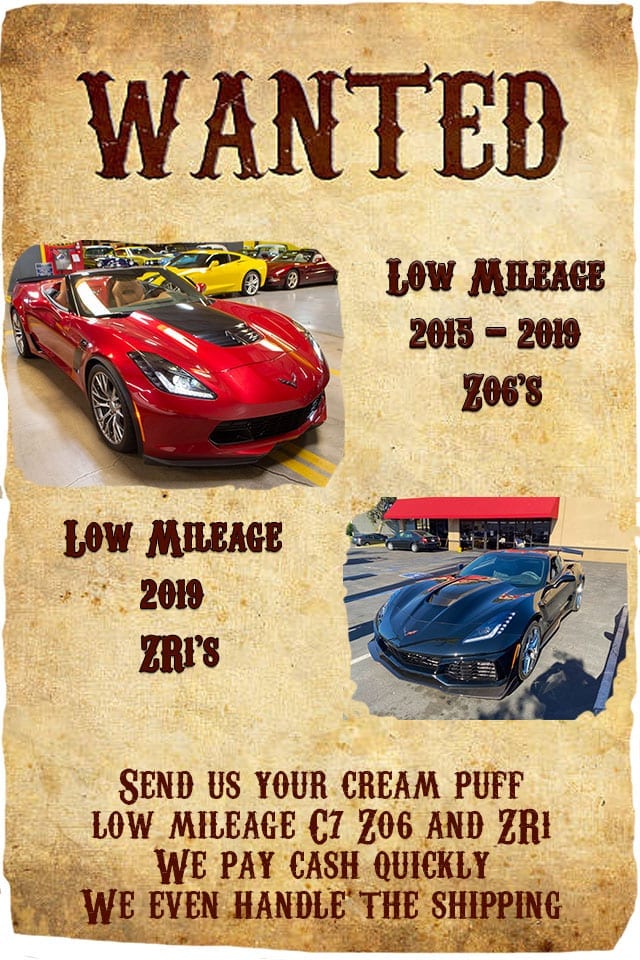 We buy used cars!
2020 Corvettes wanted top dollar paid
Top money paid for the right cars.  Submit today.
Cream puff inventory needed!
Lemons need not apply.
Consignments Net YOU More!!
You get the $$$ and we do all the work for you!!!
Garage too full?
Have one or more cars to sell?
Same day cash! Running or not!!!
For approved collections, Mike will visit personally.
Sales@CorvetteMike.Com
---
Inbound Now!
2001 BMW Z8 Roadster
1 of only 2,543 produced for North America!
This stunning Z8 is coming out of a private collection and is in absolutely pristine condition throughout, having traveled only slightly over 7k miles since new!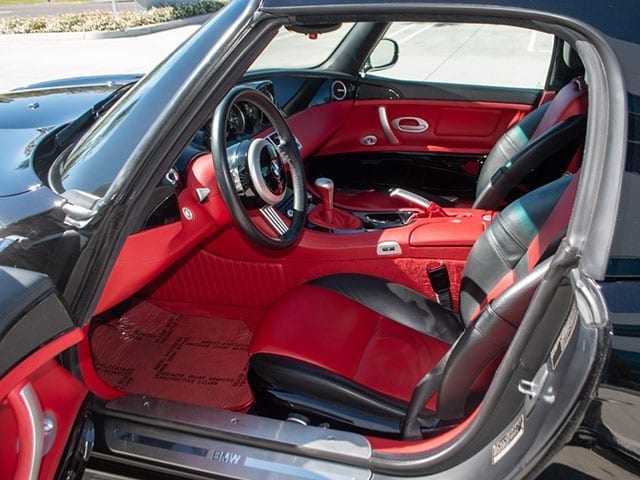 The car is finished in Jet Black with a Red/Black interior, and features the
highly desirable 6-speed manual.
Priced at: $215,000
---
Weekly Special
2015 Corvette Z06 Coupe
Only 4,070 Miles!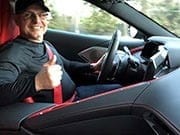 What Mike Likes about this Corvette:
"Phrases that I use to describe cars as Bitchin as this Z06:
Bad to the bone!  Tree stump puller!  Meaner than a junkyard dog! 
0-60, where'd he go!! Badass! Stealth! Rip the tires off the rims!  
If you park it and don't turn around to look at it, you bought the wrong car!!
Faster, Faster, until the thrill of speed overcomes the fear of death.
As Queen so aptly put it  . . . I'm in love with my car!
The cars we drive say a lot about us.
I feel the need… the need for speed.
Drive it like you stole it."
Corvette Mike V8tro / CM V8tro
Check out our great financing options.  
Happy Throttling!
Apex • Exit • Accelerate!!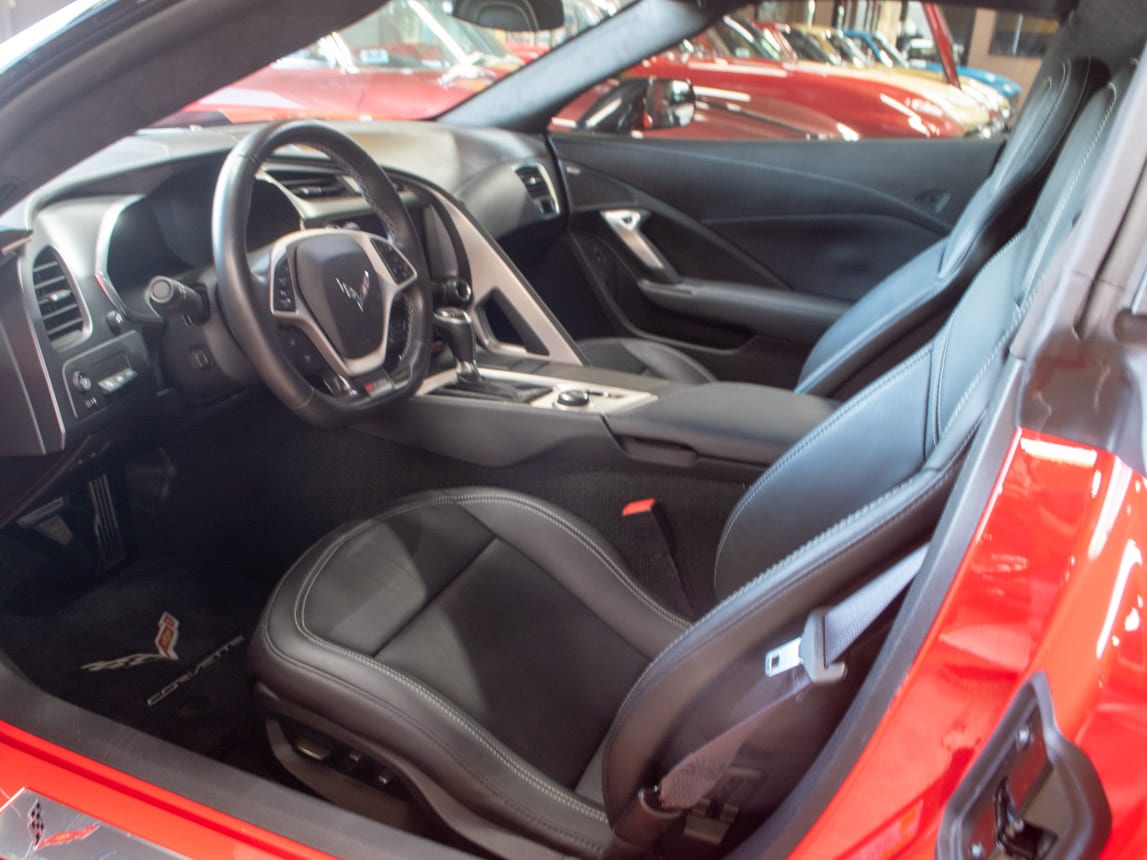 This awesome ZO6 is one of the sharpest we've had in stock!  It's a loaded 3LZ and has just about every available option, including Carbon Fiber roof panel, chrome wheels and much more!

Torch Red with Jet Black interior, 376/650hp, 8-speed paddle-shift automatic transaxle.
And it's barely broken in with only 4,070 miles on the odometer!
Special priced at: $67,900
Would you like to see your prime collector car example featured here? Click Here to send an email.
Trades maybe?
Financing yes!!!
Thrill rides no!!!
Corvette From The Inside
Signed by Author
Dave McLellan
Corvette Chief Engineer 1975-1992
Price: $25!
Other books and artwork available.
Real Kelsey Hayes Knock offs and Bolt-Ons for sale.
Tires, repro wheels, and caps.
Call for pricing.
There are so many items in the Corvette-themed collection that he changed the way Guinness World Records classifies car collecting. Anyone can go on a giant shopping spree and buy a bunch of cars, Mallon said. Eventually Guinness created a new category for "Corvette items," and in 2012, Charles was awarded the world record.
Click here to submit your bid.
---
Discounted Parts Table Items
Pictures Available Upon Request.
1956-1962 Corvette Hardtops – Priced from $4,888.
1963-1967 Corvette Hardtops – Priced from $2,000.
1968-1975 Used convertible top assembly. Good condition.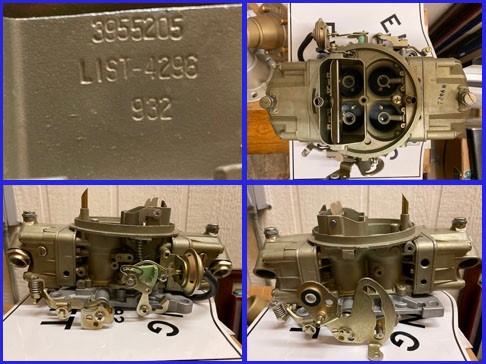 1969 L88 Holley 4bbl carburetor – Completely rebuilt (by Jerry Luck) and ready to install. 3955205 R4296 932. Price: $4,500 $3,500.
---
Auctions

1965 Chevrolet Corvette Convertible L76 327/365 4-Speed
More Coming Soon

More Coming Soon

Cars on eBay at Auction Pricing
1962 Ford Thunderbird M-Code Landau Hardtop
1965 Goldwood Yellow Corvette Convertible L76 327/365hp
1965 Rally Red Corvette Convertible L78 396/425hp, 4-speed
1975 BRIGHT YELLOW CORVETTE CONVERTIBLE
2017 Corvette Grand Sport Collector Edition Convertible 3LT
2018 Audi Q7 Quattro Prestige SUV. Loaded with only 36k miles!
---
Comic of the Week

Some Random Thoughts
It's a strange world of language in which skating on thin ice can get you into hot water.
All women should know how to take care of children. Most of them will have a husband some day.
I have enough money to live comfortably for the rest of my life – if I die next Friday.
About Us
The Leader of the Pack for nearly 40 years (est. 1982), in which time Corvette Mike has earned a reputation of unsurpassed integrity, and expertise while becoming one of the world's leading sports car dealers. Dealing in Corvettes, American Muscle cars, Ferrari, Porsche and Jaguar among others, Corvette Mike is your one-stop for your collection and sports car needs. Visit our online showroom!
Powered by WPeMatico