C8 Convertibles Arriving At Dealerships
The C8 Corvette has suffered from various delays, stops, and starts since the reveal. Buyers have been forced to endure delays from a union strike and the pandemic, but it appears the 2020 Chevy Corvette Convertible is arriving at dealerships.
The Corvette Convertible production began on August 3, but it looks like the first batch likely was held for quality-control checks before being shipped off to the buying public. There's a new video on YouTube of at least one, a blue-on-blue-on-blue example arriving at Criswell Chevrolet in Maryland with a sold sign on the dash. It's a short video of the delivery, and it is hard to tell if the dealer got more than just this one convertible C8.
C8 Still going To Australia
The C8 is the first Corvette developed by Chevy from the get-go to accommodate a right-hand-drive layout. That has allowed General Motors to make the C8 a truly global model by opening the mid-engined sports car to markets such as United Kingdom, Japan, and Australia. While Chevy considered a RHD Vette as risky, it has already turned out to be a hit in Japan, as in just 60 hours they sold more than 300 cars!
Australians are also eager to get their hands on the C8, but it will not be offered by Holden. The new C8 will be sold under the newly formed General Motors Specialty Vehicles (GMSV) banner. GMSV will be up and running by year's end, but the right-hand Corvette isn't expected to arrive until late 2021 or early 2022.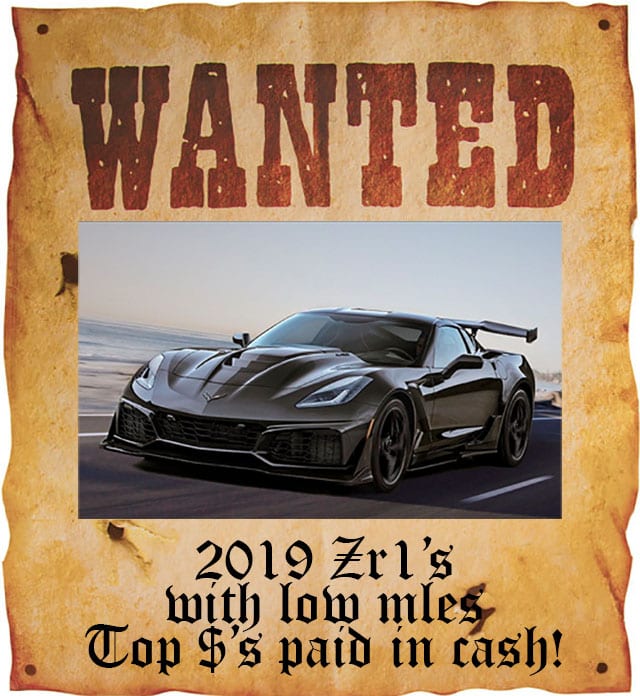 Inbound now
1967 L71 427/435hp, 4-speed
Triple Crown & the Zora Arkus-Duntov Mark of Excellence Awards!
If you've decided that the Coupe is the only way to go, then you could do no better than the amazing example seen here.  Everything about it proclaims its raw performance intentions!  L71 427/435hp big block?  Check.  M21 close ratio 4-spd. manual transmission?  Check.  N14 side mounted exhaust system?  Check.  This awesome '67 has had a complete, nut and bolt, frame-off restoration and the result is simply outstanding in every way!  So much so, that it has been the recipient of just about every major award the hobby has to offer!  Multiple N.C.R.S. Top Flights, Performance Verification Award, Triple Crown Award and the most coveted of them all . . . the Zora Arkus-Duntov Mark of Excellence Award!
Price: $295,000
---
Weekly Special
1965 Fuelie Convertible
Bloomington Gold and N.C.R.S. Top Flight Awards!
What Mike likes about this Corvette:
"The fuel injection era comes to an end in 1965 when only 771 Fuelie coupes and convertibles we're built. The end of an exciting eight years of mechanical fuel Injection that was way ahead of its time on any make or model worldwide. Excluding, of course, some of the injected cars from Germany.
Fuel injection had a nice ring to it and the name was synonymous with horsepower, fuel economy, and instant gratification when you step on the gas pedal. In 1957 the 283 small block would develop 283hp, 1hp for every cubic inch. By 1965 the 327 small block Chevy was pumping out 375hp! That was quite the force to be reckoned with, and proved itself on the street and strip.
1965 also was the year that Chevrolet debuted The Mark IV Big block 396 developing 425 hp. It came out late in the year, but it sure hurt the sales of the fuel injected 327. For a mere hundred dollars more you could get another 50 hp.
The 65 ended the era and became an instant collectible, as it has been ever since the last one rolled off the assembly line. This white convertible was in a collection of a local Anaheim Corvette aficionado who had every Corvette from 1953 to 1967. He not only enjoyed owning them but completely restoring them and then took them to every show possible, getting the highest awards available at the time. We are selling this for the estate, and we welcome all questions and comments!"
Check out our great financing options.
Happy Throttling!
Apex • Exit • Accelerate!!
CM V8tro
This outstanding example came to us from a local collector/restorer who restored it around '12.  It was an extensive frame-off and very correctly done, as all of his cars were.
Options include; L84 375hp fuel injected small block engine, M20 4-spd. manual transmission, Teak/Tele wheel, both hard and soft tops and knock off wheels wrapped in Goldwall bias ply tires.
Upon completion of the restoration, the car was judged and awarded both a Bloomington Gold and N.C.R.S. Top Flight!
Accepting offers For The Estate
Trades maybe?
Financing yes!!!
Thrill rides no!!!
---
Corvette From The Inside
Signed by Author
Dave McLellan
Corvette Chief Engineer 1975-1992
Price: $25!
Other books and artwork available.
Real Kelsey Hayes Knock offs and Bolt-Ons for sale.
Tires, repro wheels, and caps.
Call for pricing.
Complete Corvette News Collection from Volume 1 Issue 1. Starting in 1957.
Priced at $3,250
We have many duplicate issues so, if you are missing one, or a few, from your personal collection, we have individual issues starting at $20 each based on availability and rarity of the volume.
Discounted Parts Table Items
Pictures Available Upon Request.
1956-1962 Corvette Hardtops – Priced from $4,888.
1963-1967 Corvette Hardtops – Priced from $2,000.
1968-1975 Used convertible top assembly. Good condition.
1969 L88 Holley 4bbl carburetor – Completely rebuilt (by Jerry Luck) and ready to install. 3955205 R4296 932. Price: $4,500 $3,500.
---
Auctions
More Coming Soon
More Coming Soon
More Coming Soon
Cars on eBay at Auction Pricing
1955 Polo White V8 Roadster
1957 Polo White Fuel Injected Corvette Convertible
1963 Daytona Blue Corvette Split Window Coupe
1964 Ermine White Corvette Convertible Automatic, well documented
1988 Arctic White Corvette 35th Anniversary Coupe
---
Comic of the Week
Powered by WPeMatico