Celebrating Corvette Mike's 40th Anniversary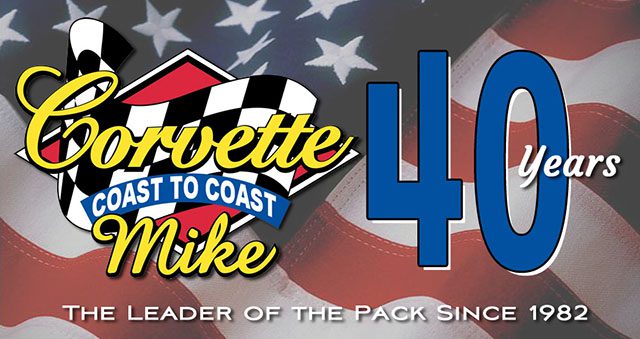 I am very proud to announce our 40th anniversary! On January 4th, 1982, Mike Vietro established Corvette Mike in Laguna Hills, CA. I want to take this occasion to thank each of you for being part of our success. I am very grateful to our customers who trusted in us to help them provide high-quality automobiles, services, and products.
Mike Vietro and the Corvette Mike Team
---
WE'RE BUYING 2023 Z06 Orders
And Other DREAM CARS!
Friends, as you all know, we don't fuss with auctions or shuffle cars from other dealers. Our cars come from you.
So, if you are thinning out your collection, let us know!
Click here to email us about your C8 Z06 order or other car(s).
---

---
2023 C8 Z06 ROADSHOW TOUR

Image Courtesy of musclecarsandtrucks.com
Ever since Chevrolet started talking about the C8 Corvette, their marketing department has been working in overdrive. Starting with the grand reveal in the blimp hangars in Orange County, CA, to the Barrett-Jackson sale of the first 2023 Z06 for $3.6 million, the enthusiasm for the Mid-Engine C8 has never stopped.
Chevy's most recent PR event is to show off the new C8 Z06 at specific dealers. Selected dealers get to host a one or two-day event with the new C8 Corvette on display, and it also includes a Corvette specialist to present the car as well as a bunch of displays showing off the various colors, options, seats, and wheels that the Corvette could be ordered on your Corvette.
Here are just some of the upcoming dealer events (Courtesy of musclecarsandtrucks.com):
Alabama
– March 8th – Buster Miles Chevrolet, Heflin 2:00 PM – 6:00 PM
– March 9th – Lander's McClarty Chevrolet, Huntsville
California
– April 4th & 5th – Connell Chevrolet, Costa Mesa
Florida
– February 28th – Bomnin Chevrolet West Kendall, Miami 11:00 AM – 7:00 PM
– March 3rd – Estero Bay Chevrolet, Estero
– March 10th – Wallace Chevrolet, Stuart (By Invitation) 11:00 AM – 7:00 PM
– March 15th – New Smyrna Beach Chevy, New Smyrna Beach 11:00 AM – 7:00 PM
– March 21st – George Nahas Chevy, Wildwood (The Villages) 11:00 AM – 7:00 PM
– March 22nd & 23rd – Don Mealy Chevrolet, Clermont 11:00 AM – 7:00 PM
– March 25th – Stingray Chevrolet, Plant City
Georgia
– March 7th – Rick Hendrick Chevrolet, Duluth
Louisiana
– March 17-18th – Service Chevrolet, Lafayette
Powered by WPeMatico